¡Oferta!
FIFA 21 Coaching – NEXT LEVEL Bundle
134,00 €
Ahorra con paquetes (Entrenamiento avanzado & THE GUIDE+ & FIFA Fundamentals Online Course)
---
Especialmente adecuado para los jugadores avanzados, que quieren llegar a las altas divisiones.
Tu entrenador juega al menos en un nivel de ELITE y entrena durante más de seis meses o tiene habilidades sobresalientes en la FIFA.
Aprende los elementos más importantes del juego, da el siguiente paso con un análisis de juego y sube divisiones y rangos de liga de fin de semana!
Programa de entrenamiento individual adaptado a tu nivel de juego. Análisis detallado de tus fortalezas y debilidades, aprende todos los elementos básicos y avanzados del FIFA y obtén información clave sobre los trucos de los profesionales para cambiar tu juego.
¡Tú decides quién es tu entrenador! Horario de entrenamiento individual a definir con tu entrenador.
Acceso completo: 

FIFA Fundamentals Online Kurs

Acceso a nuestro canal de Discord con todos los entrenadores de FIFA y los participantes del entrenamiento. Perfecto para encontrar juegos de entrenamiento y charlar sobre cuestiones de FIFA de todo tipo.
Acceso durante 3 meses al contenido de THE GUIDE+. 4 piezas de contenido por semana (

inglés

). 1 × FIFA 21 - 3 Months THE GUIDE+
Disponible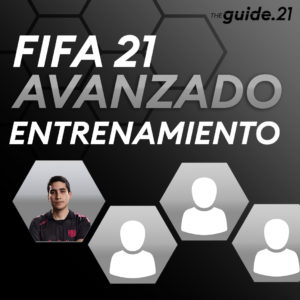 Disponible
Solo los usuarios registrados que hayan comprado este producto pueden hacer una valoración.