A lot of people are struggling to find their favorite formation this year, let us explain why we recommend the defensive 442, in game shown as 442 (2).
We start this blog post by covering the individual tactics and player instructions. Afterwards we move on to the play concepts that you should apply from build-up to goal scoring and answer the question why the 442 (2) is stronger than the regular 442. We will also let you know which stats are the most important ones for each position on the pitch. Finally, we end the post by showing you three example teams that function well in the 442 (2).
Tactics and Instructions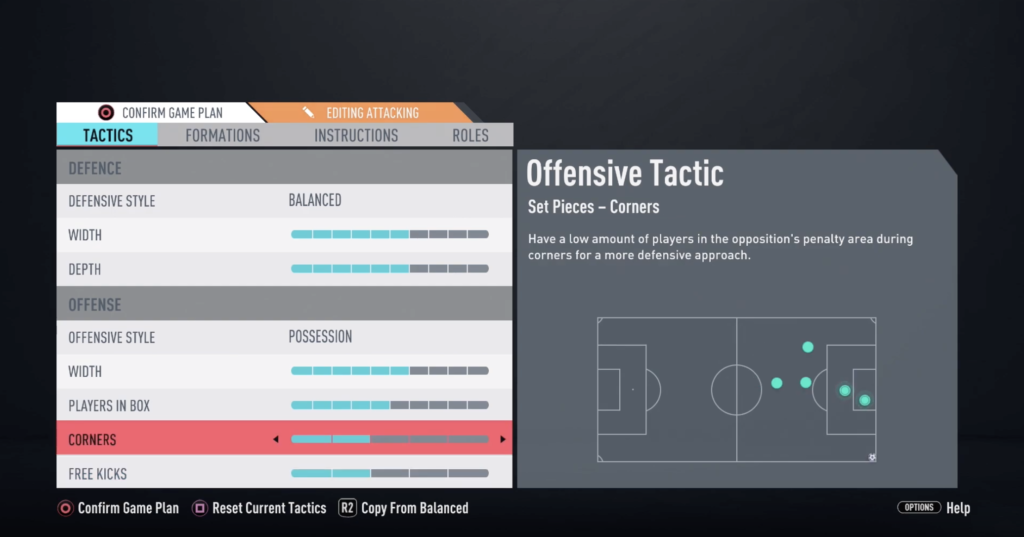 You can pressure high on the pitch when you play the balanced defensive style with width and depth on 6. If you aren´t feeling comfortable in the defence you can also play drop back and depth 3 in order to stand more compact.
In offense we recommend you to play possession over balance in combination with width and players in the box on 5. This is mainly because of the strikers, who start fewer runs by themselves in these settings and are therefore more accessible.
For corners and free kicks we recommend only 2 bars, because they are not so strong in FIFA 20 and therefore it is better to have more players in the back than in the front to have a solid defensive lineup against the opponents counterattacks.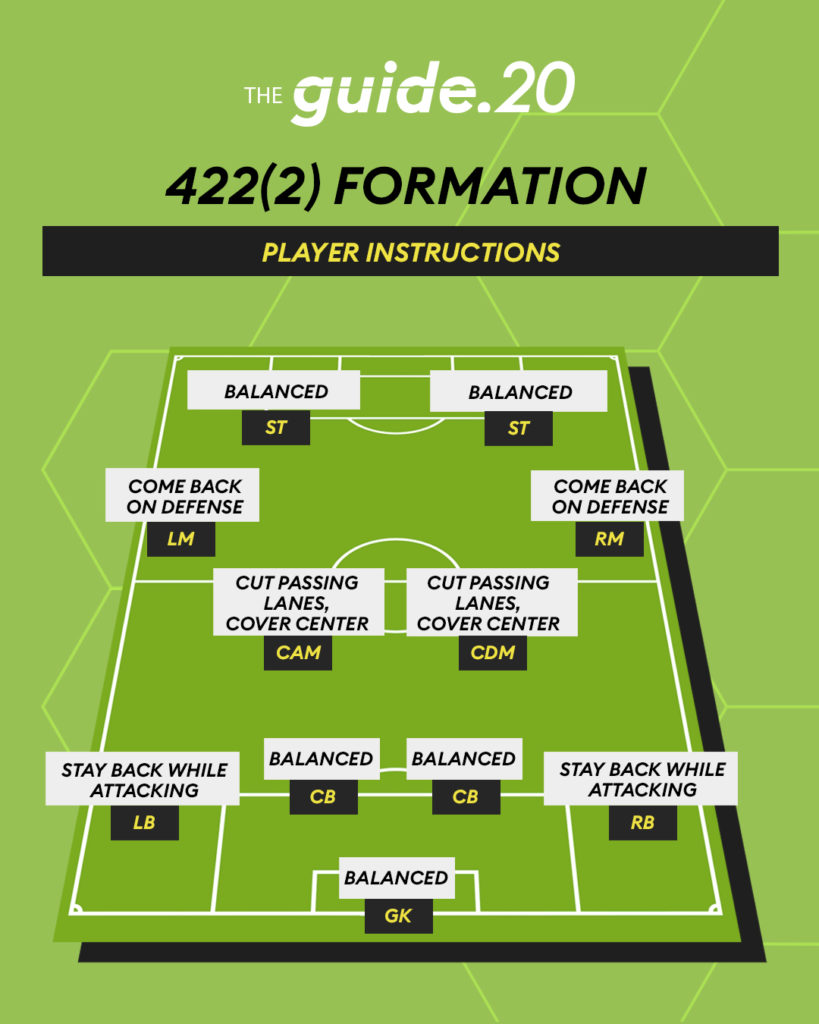 The most important instruction concerns the CDMs, because here you have to change from cover wings to cover center, because this is where they are supposed to defend. To keep the lineup balanced in defense, the wing players must get come back on defense as instructions and at the same time it is important that the fullbacks do not overrun the wing players in attack, so they stay back while attacking.
Always remember: it's called individual tactics. And even if TaZz prefers these instructions and tactics, it doesn't mean they work for you. Adjust the settings to suit you better.
Build-up and transition play
The biggest advantage of this formation is that it's spread out over the whole pitch, providing important triangles between players to build up the game. You will always find clear options to pass to. The most important options to your build-up game can be found in these triangles:
CB, LB/RB and CDM
CDM, LB/RB and Winger
CDM, ST and Winger
Within those triangles try to build up your game with one-two and one-touch passes to create space with your wingers, but never force a quick build-up. A pass back to your fullback or centerback can be just as important as a pass to your striker. Whenever you are stuck on one wing you can easily change sides over the CDMs or CBs and start the attack over again.
You can build up fast and start an counterattack or you can build up slow with possession play, if you need more tips about that check out one of our latest videos.

Goal scoring
As soon as you are close to the box in FIFA 20 it often comes down to patience until you can create enough space to find a good spot to shoot. Whenever you've created space throughout a quick attack you should try to use it but if it's not possible try to involve your CDMs to finalize your attack.
Your CDMs are the centerpiece in this formation for attacking, they can set the pace of your game, find the striker with a good pass, get your wingers into the attack or swap the sides if you are stuck. Being patient is key in the 442 (2) Formation!

Defending concept
What applies to your attacks, also applies to your opponents attacks, because they also try to play out their attacks mainly through the centre. Try to remember why we gave our CDMs cover centre, defend on the outside with the wingers and in the middle with the CDMs, don't let yourself be lured out too far and open up spaces in the back of you players.
From time to time it´s crucial to switch to your centerback to pressure your opponent but always remember to switch back to another player and give your CB enough time to get back in position.
General advice: Never stick to one player in defence. It is important to change players in order to take away opportunities for the opponent to distribute the ball.
Key attributes for each position
We want to give you a quick overview of the key attributes for each position and role in the defensive 442. We're going to start in the defense and end in the attack.

We used the following abbreviations for the face stats of a card:
PAC = Pace, SHO = Shooting, PAS = Passing, DRI = Dribbling, DEF = Defense, PHY = Physical
">" means the left one is more important, ">>>" means the left one is much more important, "=" means both face stats are equally important

Centerback (CB):
DEF = PAC > PHY >>> DRI > PAS > SHO
Pace and defense are the most important attributes, followed by physical. You should primarily pick your CBs based on these three attributes. The others aren't as important for this position.
Fullbacks (LB/RB):
PAC > DEF > PHY > PAS = DRI > SHO
Similar to the CB position, the most important attributes are also pace, defense and physical, but pace is the most important one. As the fullbacks are going to play more decisive passes to your wingers the passing attributes (long passing in particular) are more interesting. Good dribbling helps to quickly shift the play, shooting is not as relevant.
Central Defensive Midfielders (CDM):
PAC = DEF = PHY > PAS > SHO > DRI
The CDM is probably the toughest position to order the relevance of the attributes, because they have to do it all. Getting the ball possession, playing good passes, quickly shifting the play as well score a goal from time to time. As you can see, the focus is still on the defensive attributes (PAC, DEF, PHY), but the other attributes are just close by. One approach could be to have one CDM, who has the priority on defense and the second one is stronger in the attacking part.
Wingers (LM/RM):
PAC > DRI > PAS = SHO > PHY >>> DEF
One the wing you want to be able to use the space and break through as soon as you have the opportunity, so pace rules it all. High dribbling also helps a lot to create chances in 1vs1 situations. Next up are passing and shooting. High physical attributes help to prevail on the wing in running duels, but this is a bonus. For the wing positions players with at least 4* skills and 4* weak foot are preferred.
Strikers (ST):
SHO > PAC = DRI > PAS > PHY >>> DEF
Your striker is supposed to score goals, so obviously shooting is the most important attribute. Usually pace is also very important for strikers, but as we explained in the video, you will have to beat your opponent in 1vs1 situations quite often to get the space to shoot on goal. Therefore dribbling is right up there. Good passing helps to involve your second striker as well the occasional pass to the winger or CDM. Passing is closely followed by physical, because otherwise your strikers will get bullied by the strong CBs of the opponent.
This year one of the key features for a striker is the weak foot. A 5* weak foot is very valuable and for me personal has priority over the skill moves. Being able to finish with both foots opens up a lot of ways to out-maneuver the opponent and score the goal.
442 (2) over 442 but why?
It's quite a simple reason everyone can relate to: in the 442 most of the times you are going to commit both of your CMs into your attack and then you are missing a backup, that will leave your defense very open and vulnerable.
The role of CMs is much more offensive than that of CDMs in the 442 (2), which means that CMs have a greater distance to the defense than to the attackers.
Example teams
Here are some example squads that illustrate how you could build a team that should work well in the 442 (2) for three different budgets. They are intended to be an inspiration for you and we can imagine that there are much better teams for the same value. Especially since we didn't use any SBC cards or cards that you could have gained through special objectives. Some cards that TaZz used a lot in his squads, but didn't include, since you can't get them anymore:
FUTMAS Acuna, which you play as CDM ingame. Such a beast for the price!
UEL Live Bolasie, which offers a great strong link option to Acuna.
Flashback Paulinho. Another allrounder for the CDM position.
UEL Live Diego Carlos. Good CB with a very good price-performance ratio.
100k:
With such a small budget it can be hard to find a player that fits each role. This holds especially true for the CDMs. As previously explained the CDMs have to got it all which is hard to find for a low price. Therefore you have to do some sacrifices here. Also the striker role is hard to fill, but Ben Yedder and Lacazette should be a decent duo for the start.
1 million:
The weakest point of this team is probably Sissoko. He was good to use in the beginning of FIFA 20, but now falls off a little bit. But Son is such a good striker with his 5* weak foot and you need a strong link for him. Replacements for Sissoko could be a special card of Dele Alli.
5 million:
With such a high budget you have a lot of options. Butragueno is one of the best striker Icons this year. He might be missing the 4* skills, but his 5* weak foot makes up for this. Additionally he has the finesse shot trait, which comes in handy for long shots outside the box.